The Tribble Tapestry: An Original Design
Kathryn Tribble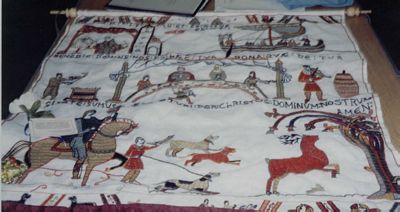 The Tribble Tapestry was made as a gift to the embroiderer's in-laws and was under construction for almost four months, requiring more than two hundred hours of sewing and many more for the planning and research stages.
As is the Bayeux Tapestry, the Tribble Tapestry is wool embroidery on linen, and the two stitches used are stem stich and laid-and-couched work. Many of the figures are taken from the Bayeux Tapestry, although some, like those in the Bayeux Tapestry, are taken from contemporary manuscripts that would have been available to the designer in England. The borders contain griffins, bees (industry), peacocks (eternal life), sheep, lions, and an Aesop's fable. The main figures include a monk working on a manuscript, men in a boat, a baker removing bread from a portable oven, feasters at table, a fiddler next to a wine cask, a mounted falconer, a man with a horn, three greyhounds (the Tribbles are in the coursing guild) chasing a stag and hare, and a fancifully interlaced tree.
The Bayeux Tapestry includes a running narration in Latin, so I picked a traditional Latin meal grace for the text: "In the name of the Father [In nomine Patris], and of the Son [et Filii], and of the Holy Spirit [et Spiritus Sancti]. Bless us, Lord [Benedic, Domine, nos], and these thy gifts [et haec tua dona] which we are about to receive from thy bounty [quae de tua largitate sumus sumpturi] through Christ our Lord [per Christus Dominum nostrum], amen."
Main sources consulted:

Bernstein, David J. The Mystery of the Bayeux Tapestry. Chicago: University of Chicago Press, 1987.
B&W photos of entire tapestry with some color plates. Great discussion of history, construction, use of borders as commentary on the main scenes.
Thorpe, Lewis. The Bayeux Tapestry and the Norman Invasion. London: The Folio Society, 1973.
Color photos of the entire tapestry, some historical discussion.
(All copyright privileges remain with the author. Copyright 2002 Kathryn Tribble.)