16th Century Quilted Indian Pillow
Sayidda Dinah bint Ismail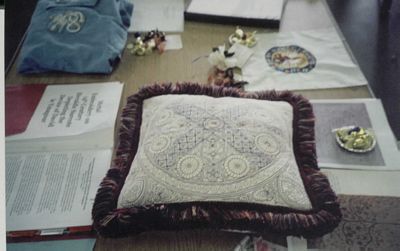 My pillow top is quilted in a 16th century Indian style. It is stitched with a Backstitch in silk thread with cotton batting in between two layers of cotton fabric.
History of the Technique
When the Portuguese arrived in India in the early 16th century to take possession of the sub-continent, they found a flourishing trade in all sorts of textiles. One of the most popular was in quilted coverlets and hangings. What made these quilts unique was the use of colors, stitches, and designs.
The technique of this style of quilting is very simple. Two pieces of fabric (usually cotton or linen) with a filling of cotton batting or wadding was stitched together with silk thread. The common most stitches used were backstitch and chain stitch. Other common stitches used were French knot and Daisy.
The earliest coverlets known at this moment are dated to the late 16th century. They are in white or light colored cotton backstitched with Tussah (wild silk) threads in a backstitch. I have found examples of some coverlets stitched with a combination of red and blue threads as well as in a polychrome (multicolored).
Designs made these quilts stand out from most coverlets in Europe at the time. They were full of exotic animals and plants. Hindu myths and geometric forms would be used right next to each other. Hunting scenes were very popular. The Mughal court in Northern India was also a major influence adding Persian floral styles.
All of these factors added together increased their popularity at home in Portugal. So much in fact that they started to be copied in Portugal. Originally by Indian embroiderers brought to Portugal to work and later by the Portuguese themselves. Known as Colchas in Portugal by the late 17th century it was hard to tell the one from India and the ones produced in Portugal.
One thing I have noted is that the quilts from India seem to use more cotton and less linen as their ground fabric does. This is most likely because cotton originated in India and was quite common and much cheaper than in Europe at the time. Also the European quilts have a tendency to be embroidered first and then quilted, where as the Indian one seem to have done the embroidery as they were quilted.
I am not sure why, but this style of quilting seems to have died in present day India. It may be the influence of Victorian England. The most common style of quilting at the present time is called Kantha quilting. They still use a combination of embroidery and quilting but they use a running stitch with mainly darning stitch for the embroidery.
What I did
I was interested by the technique that was used in there quilted coverlets. I knew that I wanted to start with a smaller version than a full size quilt, so I decided to do a pillow top. Another factor in my choice of doing a pillow top instead of the full coverlet was that the photo I have is only a portion of the full coverlet.
My design is based on a coverlet fragment found in "Portugal and the East Through Embroidery" dated to the late 16th century. It has a white or natural background fabric of cotton and embroidered in dark blue and red tussah silk thread in a backstitch. The fragment is sized at 213 x 162 cm. (See color copy on cover.)
My design is based on the center medallion of the coverlet fragment. Unfortunately, though the size of the quilt fragment is given, only a detail of the quilt was photographed, and we do not know the actual size of the medallion in the original piece. My piece was scaled to fit a pillow form that I had. The design was drawn using a straight edge, several circle templates, and the rest of the design was freehand drawn using a wash-away marker.
My pillow top is of a 100 percent cotton fabric both back and front. My batting is a low loft commercial batting of cotton called "Warm and Natural". It was stitched with silk thread in a rich red and blue, entirely with a Backstitch. I used a commercial cotton brush fringe and a commercial braid to trim out the design.
The pillow top is designed to be removable, so that the embroidery can be examined from both sides.
Sources
Portugal and the East Through Embroidery, 16th to 18th Century Coverlets from the Museu Nacional de Arte Antuga, Lisbon, 1981, ISBN 0883970384

Elizabethan Treasures, The Hardwick Hall Textiles, Santina M. Levey, 1998, ISBN 0810963531

Treasures From The Embroiderers' Guild Collections, 1991, ISBN 0715303724

Needlework, Adolph S. Cavallo, 1979, Library of Congress Catalog Card # 78-62725

A World of Embroidery, Mary Gostelow, 1975, ISBN 0684142309

The Techniques of Indian Embroidery, Anne Morrell, 1995, ISBN 188301008X

Textiles and Ornaments of India, edited by Monroe Wheeler, 1956, LCC# 56-8578
Contact the author, Dinah Tackett, Dinahtackett@hotmail.com
(All copyright privileges remain with the author. Copyright 2002 Dinah Tackett, also known as Sayyida Dinah bint Ismai'l)