Elizabethan Sweet Bag - A Work in Progress
Lady Auriana Ravenstein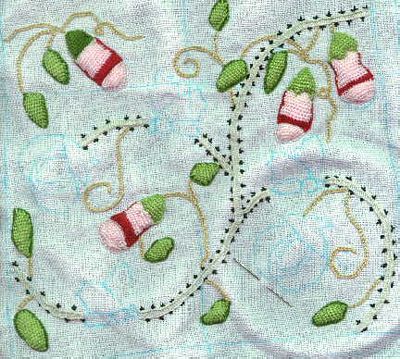 Comments by Lady Auriana Ravenstein
Well the first side is done now. I am in the process of making the back panel. It has a red bird in the center, a peascod in the lower right corner and grapes in the other three corners.
It is on Irish linen scraps that you can buy at your local craft shop.
I am using DMC's #8 thread. According to the book that I am using it is similar to what they would have used during this time. Silk is the main choice or wool. The weight of the thread acts as if it were wool, and is easy to work with.
(All copyright privileges remain with the author. Copyright 2002 Lady Auriana Ravenstein)